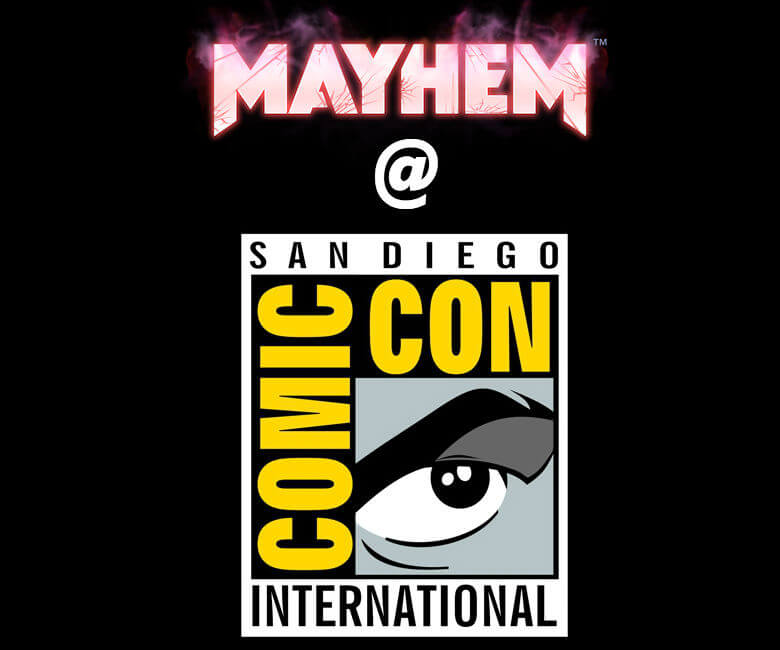 Mayhem Tournament at Comic-Con!
Jul 21 2016
We are super psyched to announce that we are partnering with 3BlackDot to bring an exclusive 3v3 tournament to Comic-Con this week. Anyone that signs-up on www.playmayhem.com or at the 3BlackDot Gallery space at Comic-Con will get access to play the Mayhem beta.
Furthermore, users will be invited on a first-come first-serve basis to participate in the Comic-Con tournament that culminates with the final match being live streamed by ChimneySwift11 on Twitch. Below are the key details about the tournament. If you're down in San Diego for Comic-Con, we'll be at Spark's Gallery as part of 3BlackDot's Comic-Con presence. Come say hello!
Tournament Details
– Tournament administration will occur on Battlefy.
– Tournament support will occur on Discord (@PlayMayhem).
– You can sign-up either as a team (with your friends) or as a free agent (you will be placed on a team). The max team size is 3 players.
– Tournament slots will be assigned on a first-come first-serve basis. If you are on the waitlist, make sure to still check-in to the tournament since there is still a good chance of being selected into the tournament.
– Tournament Signup – July 21nd at 11am PST and end on July 22nd at 5pm PST.
– Teams and seeds will be announced on July 23rd at 10am PST. Tournament will start on July 23rd from 2pm PST, with checked in teams and waitlist players seeded by 2:10pm PST. Final match will occur on July 23rd at 3:45pm PST.
– Winning team receives Alpatronic HX101 Bluetooth headphones, runner-up team receives three $50 Amazon gift cards. Only US residents are eligible to win prizes.
We hope that all participants enjoy playing the Mayhem Beta. Please send any and all feedback to feedback@playmayhem.com.